FIBERGLASS STD COLORS - (AMP COLLECTION)
AMP - line standard and custom colors and finishes (also AFI/AL) For all other Fiberglass - New colors added ongoing - will advise of any changes.
**click here for the FE - FGL guide**
The standard "AMP-Fiberglass" finish is a molded gel-coat high gloss finish.
Alternative finishes are available but at an additional upcharge and a minimum order will apply.
Fiberglass Designers Colors
Standard high gloss gel coat finish available in 30 colors See chart - below.
Finish #1 - Orange Peel Texture
An applied finish in gloss or matte @ 20% upcharge - See chart - below
Finish # 2 - Granite Finish
See chart - below
Available in Fashion Gray or Terra Cotta @ 30% upcharge.
This unique finish creates the appearance of polished,
smooth natural granite.
Finish # 3 - Multi-Spec
See chart - below
Lightweight polyester stone composite @ 20% upcharge

Avl in sand (shown), charcoal, white colors
Finish # 4

Avl in 8 colors - see below.
Finish # 5 - Mottled

4 colors: MERIGOLD(shown) VANILLA, MOCHA, SLATE - See chart - below
Click here for .pdf printable chart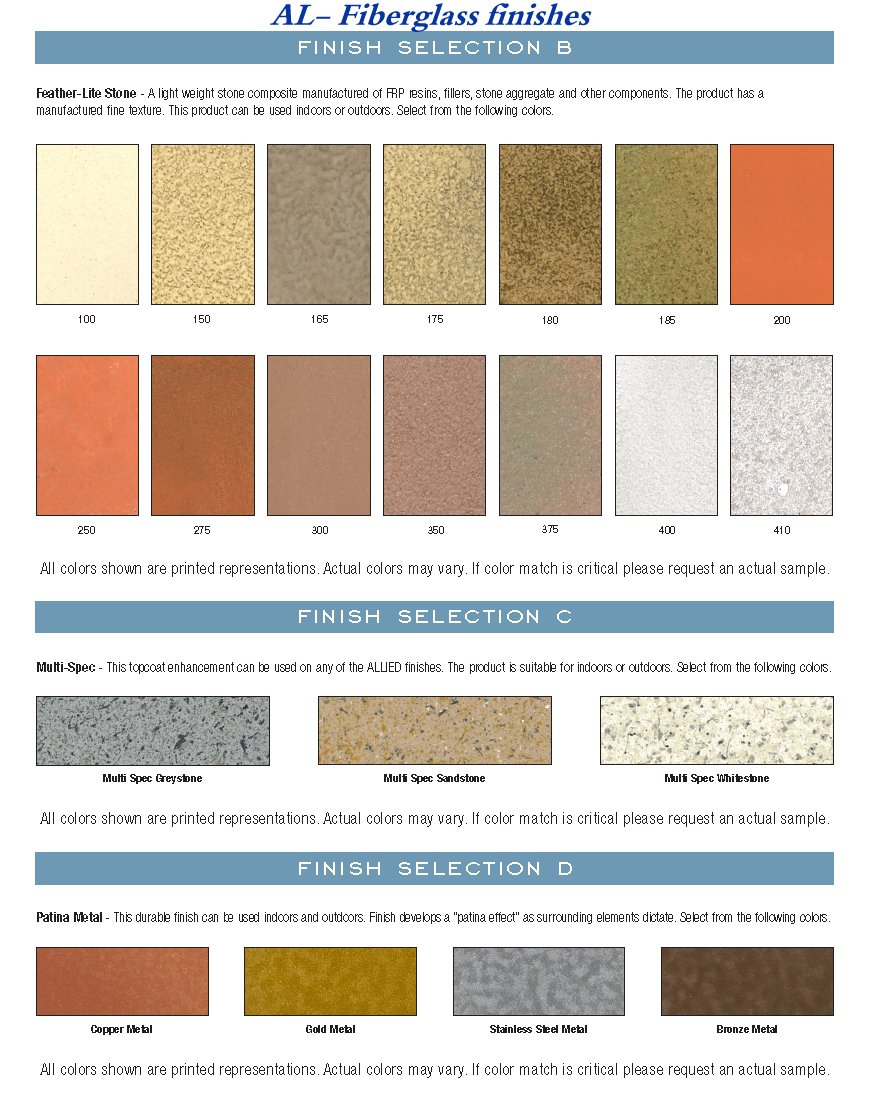 Custom Colors, Sizes & Designs
An upcharge of 15% per unit plus a "Mixing" charge @ $150.00 per order is applicable to custom color items.
Also, custom size and custom designed products which are not shown on our web site, are available on a quotation basis.
Please contact our customer service department with your design requirements.
Selected sample chips available on request.