PLANTER STANDS AND MORE

Most of the plant holders and planter stands here are available on the site; to view or purchase. Please see Accessories for selections.

Below are some plant stands in hardwood, iron and other materials. See Below (FBS,FBST & LPS) for the CH bowls.

Contact us to order the LH - LS and Iron stands.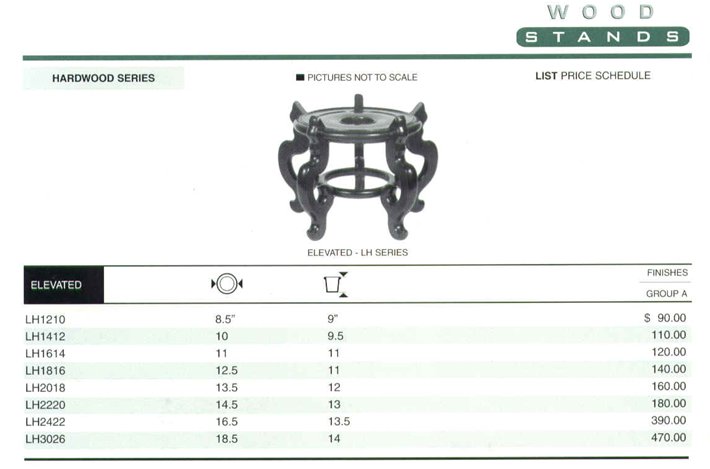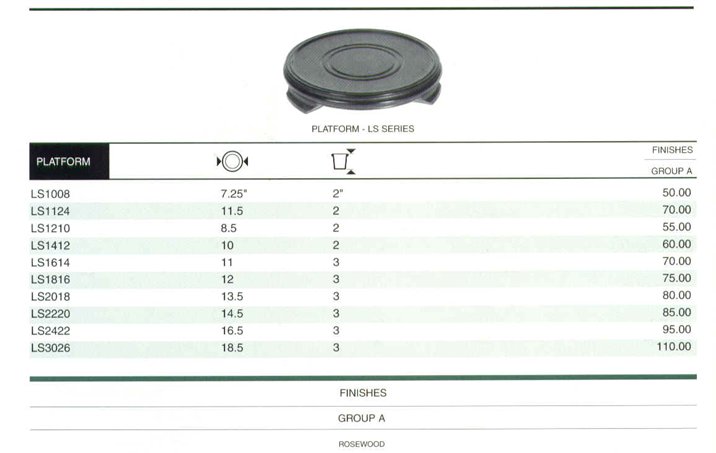 FISH BOWL STAND DIMENSIONS (FBS & LPS)
See images - Below...


(for CH - CB Fishbowls) Mahogany - black -




FBS # and LPS # is for same size Fishbowl. Example: FBS12 is for the CH12 Bowl.



ITEM #
HT "
BASE DIAM "
FBS 4
2 3/4
2 3/4
FBS 6
4 1/2
4 1/2
FBS 8
5 5/8
6 1/8
FBS 10
6 1/2
7 1/8
FBS 12
8
8
FBS 14
8 3/8
9 3/4
FBS 16
8 1/2
10 1/2
FBS 18
8 1/2
12
FBS 20
8 1/8
13 1/8
FBS 22
10
14 3/4
FBS 24
11
17 1/4
FBST are
same
Diameter
as FBS
LPS 6
1 1/4
4 3/8
LPS 8
1 3/8
5 7/8
LPS 10
1 1/2
7 1/8
LPS 12
1 1/2
8 1/2
LPS 14
1 5/8
9 3/4
LPS 16
1 5/8
10 5/8
LPS 18
2
12 3/4
LPS 20
2 1/4
13 3/8
LPS 22
2 1/4
14 1/2
LPS 24
2 1/2
17 1/8

(for CH - CB Fishbowls) Mahogany - black
---
---
x