ORDER FORM INSTRUCTIONS - As an alternate to our Cart / RFQ forms,
Please use the form below to order * or request product information.
If you provide us with your contact information, it will be kept
strictly confidential and not provided to any third party. We can also
work from your Purchase Order, within our terms..
* Basic Contact Information is required for orders or Information requests.
Minimum of email and phone # is needed.
* You will be sent a conformation e mail to complete your order / RFQ, or
we may call in person to verify and cover details..
If you don't receive an email, call or fax reply within 24 Hrs (M-F), we didn't receive!
You may also call us direct at: Toll Free: 1-866- P O T T E R Y - 9am - 5pm M-F Denver time. 1-866- 7 6 8 - 8 3 7 9
If we can't take your call, Please Leave detailed message and your return # and email or fax..

CLICK HERE (OR ON FORM) FOR .PDF VERSION OR COPY FORM BELOW...

Order form (pdf)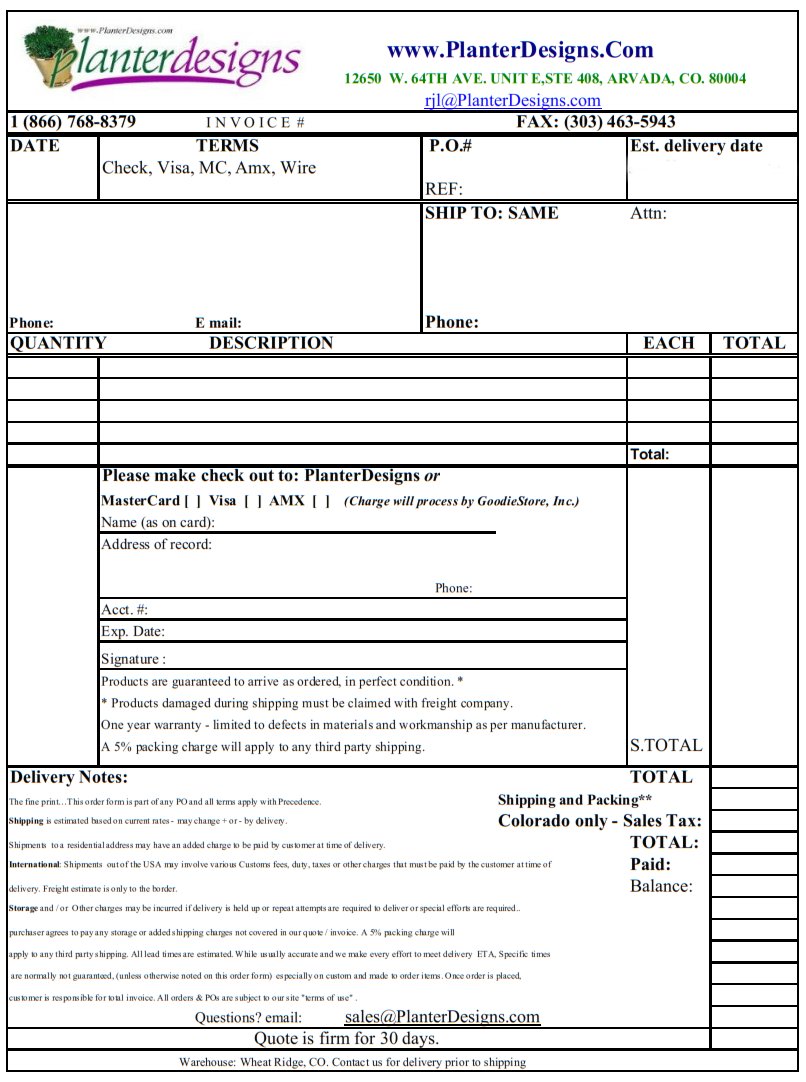 Form Details...
You may print, fill in, and email, Snail mail or Fax this order form
1. Just click form, pdf will open - and click "print " or fill out and email back if your system permits..
2. print it, Fill out the form, and FAX to 303-463-5943 or scan/email to " info@planterdesigns.com "
We will reply within 24 hours (working days) to confirm.
Our working hours are: 9:am - 5:pm Mon - Fri. Mtn Time.
You also may save form to print and use later.
Please email with any questions, concerns or other issues.
( Our fax is secure)
* on orders, the name phone #and address of record on the card (Visa/MC)
that you will be using must be provided. A signature from the card
holder may be required at or before time of delivery.
We want to protect both parties. We will review to assure it is correct
before we process.