Custom Planter & Waste solutions - Any style, size or material!
PLANTER GUIDE - Mobile users, See menu top-left or Click image to view & select planters by type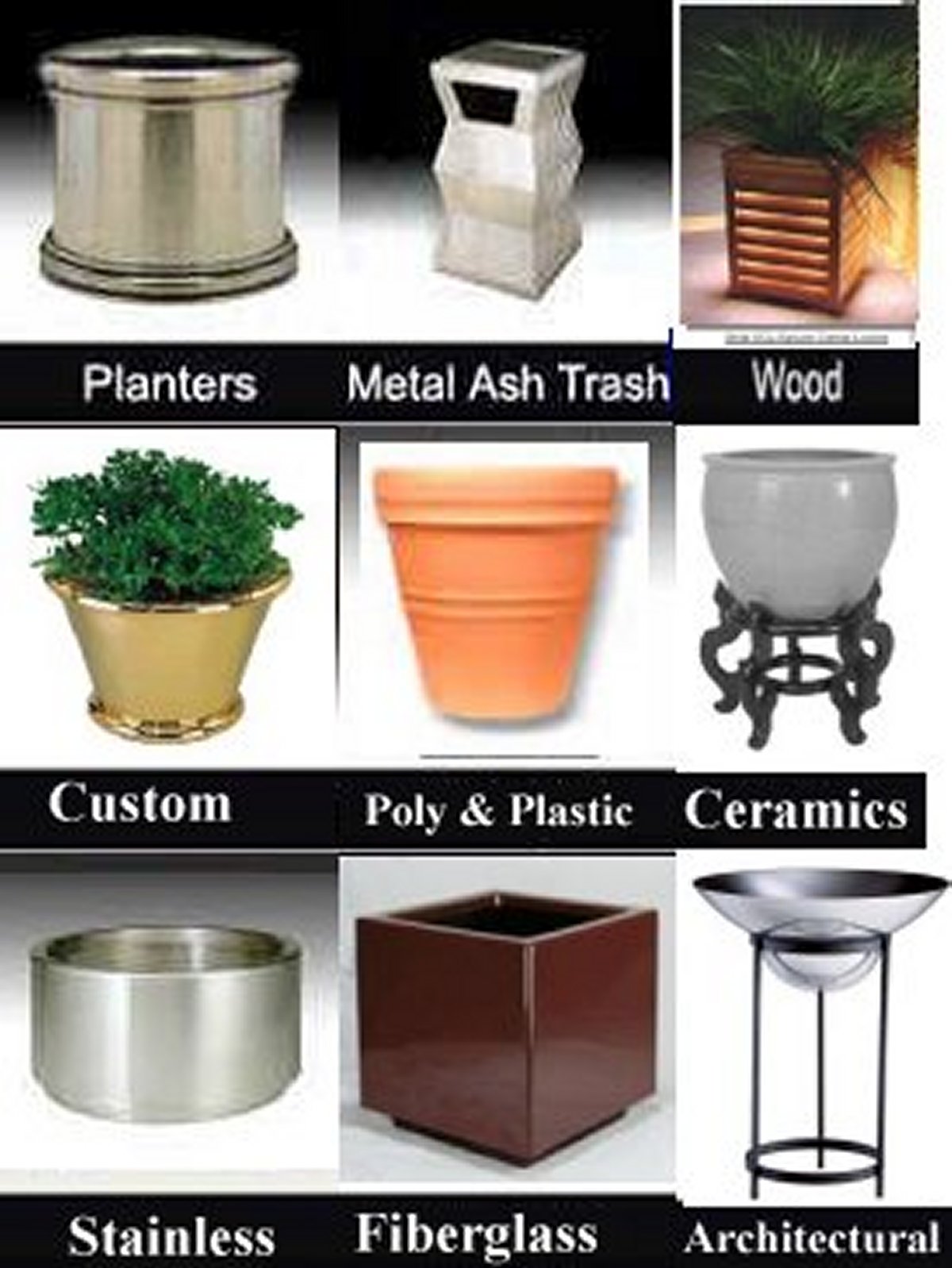 Providing distinctive and unique solutions for your Architectural Landscaping, interior and exterior planter and site Amenities requirements.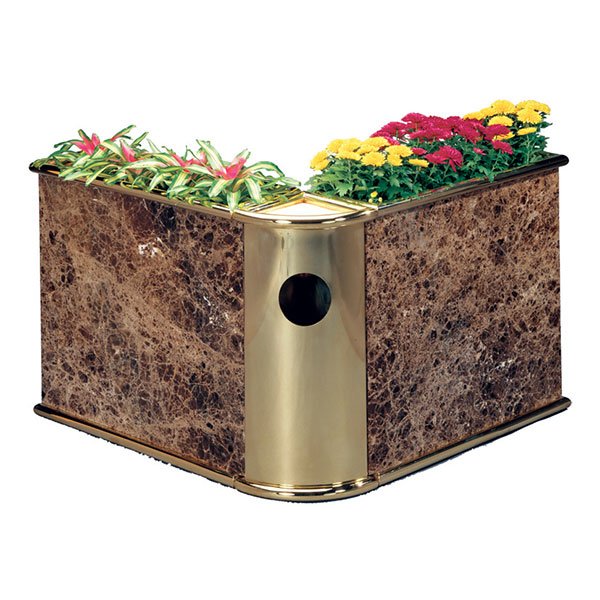 < Shown: Custom Wall planter of Stone, Brass with Ash/Trash included.
Made in the USA!
Serving the designer planter and receptacles needs for Residential clients, commercial, Industrial, Hospitality, Health Care, Resorts, Architects, designers, property owners and other trades wanting high quality, unique planters and/or site amenities products.
Designers, architects, property - project mangers and interior/exterior landscapers, Send your planter and/ or waste receptacle requirements for a written quote with your trade prices. You may also send your customers to the site to browse, only list prices are shown. Leed designers - Ask about our " Green " products. SEND INQUIRY...

New and popular planters and vases...
PLANTERS and Plant Containers

Fiberglass: ( Custom or hundreds of standard styles and finishes and textures) from 6" to as large as you want!

Ceramic and Porcelain

Clay - Terra Cotta

Wood: ( Custom or standard styles in many finishes)

Plastic: ( Large selection of economically priced - commercial quality plantscape containers.)
FOOD SERVICE STATIONS AND RECYCLING CENTERS IN ANY SHAPE, STYLE FINISH OR MATERIAL - MADE TO YOUR SPECIFICATIONS.

Need Heavy?
T

he Frank Lloyd Wright Planter Collection See

"What's New".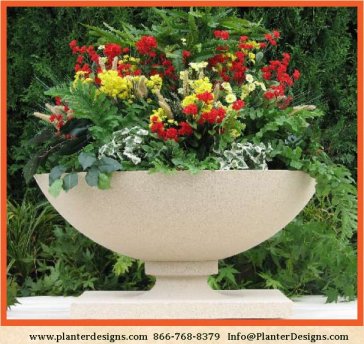 FLW Series now available - Information..
New!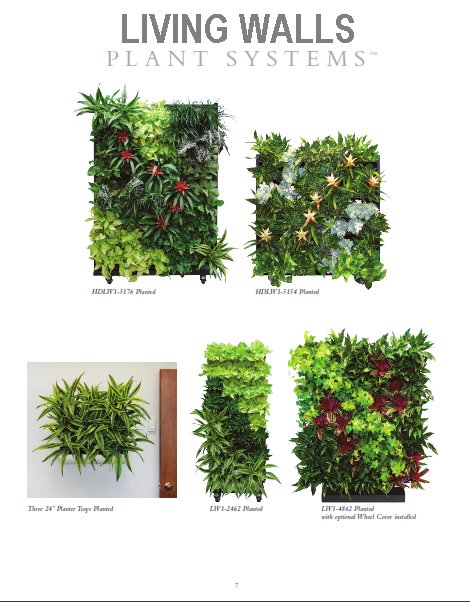 LIVING WALLS!!! Turn any wall into flora art, Indoors or out. See
"What's New".
The largest plant container selection to be found - true one stop planter shopping for Landscape Architect Planters, interior plant designs or ash and trash. Many planter supplies and accessories for home and professional use.. Factory direct shipping. We also offer a large selection of site amenities, benches, luggage / baggage carts and other unique products. Inquire for details.
Custom or Standard, architectural designs, shapes and sizes at the best prices
(professional, volume discounts) - Landscape architects, site planners and Designers; send details for a quote.
Service and experience matter. Not just an automated cart! We review every order and will actually work with you on your requirements!
We have been in the industry for over thirty years...Get it right the first time with Planter Designs.

We offer virtually any type custom or standard, and size of planters and pots
for home, garden and business including custom built specifically for your project.
Matching ash and trash receptacles are also available for most of our planters,

as well as other accessories like luggage carts, drop boxes, and more.

Looking For unique plant holders, Not simply planters ? Browse our wide range of planter solutions and accessories. We have the hard to find designer pots and large plant containers that you need to finish off your project.


We can handle any type or size of project, from Casino size to one special
planter for your favorite tree or table plant.
Planter Designs can also have your design custom built.
Browse / shop or Have your designer, architect or planning Dept.
contact us for a formal quote or buy online.


* We have many other selections not yet included on this new and improved site.
Need Information: please contact us (click here)
have If you ever tried to find a large commercial quality planter in Solid brass or Stainless steel you know how hard it can be.
More then just a plant pot! Out hand made, custom, designer planters
are true works of art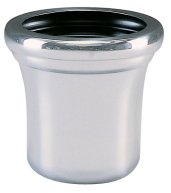 not just a plant pot!

Special occasion? Say it with flowers or a great gift basket!

Follow us on FaceBook!
Note: We serve the trades, so our terms, conditions and policies on sales, shipping and returns may differ from normal retail sites and stores. See terms and conditions for important details. All prices and items subject to change without notice. Site is continually updated but still prices on some items or collections may lag changes in the market - We will advise of any price difference after quote request or order comes in before proceeding.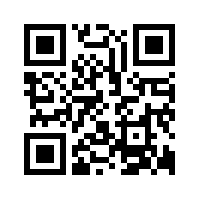 Site Promotion Links: Directory Marketing DirectoryWind.com
We have many other designer items and custom accessories ...contact us.
Copyright © 2004-2016, GoodieStore, Inc. and PlanterDesigns All rights reserved Worldwide .