How To Buy Planters
How to find, select and buy designer and custom planters and pots
By Bob Little
We often see a beautiful Home, business or even large buildings and malls that have spent a lot of time and money on interior / exterior design and then ruin it by using Discount store plants and Planters. At GoodieStore Designer Planters and pots there is a huge selection of virtually any size, type, style or material / finish plant containers you could ask for. The problem is, what do you really need to finish your project so it all comes together?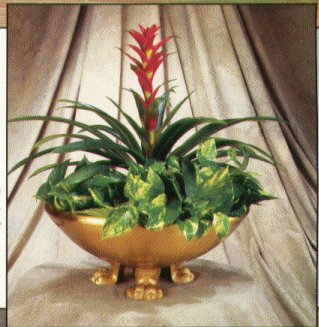 Plants complete a great design, just as a nice frame does for fine art. The correct plants and pots are critical to complete a beautiful design.. The plants should go with the overall theme of the space, taking into consideration size, type, care, light and water requirements, which we will get to more in another article.
Assuming you have the right plants in mind you need the right planters. If We are doing (as we have) a new Las Vegas casino, we want to use high impact, rich looking styles like solid brassand architectural planters. On the other hand a Country club may use high end Terra cotta outside, Brass planters in the lobby and maybe a Victorian planter in their garden restaurant.
For the high tech facility like a new downtown office building we may need to custom build some artsy solid stainless steel planters or fiberglass treepots both freestanding and built in, which are available in many shapes and styles to suit any requirements. In these areas the plants and containers can also be used to control traffic flow and fill in open areas or provide nice private nooks for seating. Still not sure? try here first.
Be sure to look over all the possibilities before deciding. It can make or break the look of your project and Large planters can be a significant investment, we want to get it right the first time.
Some things you need to consider are:
1. What will you be using the planters for?
A. Just as a pretty pot cover. Then just pick planters that are at least 2" taller and wider then the plant pot that is going into it. Yes, just plan on dropping the plant, greenhouse pot and all into the new planter. If using live plants, plan on some type of liner to prevent leaks and to protect the metal from reacting to the water/soil.
B Outside use. If using outside you will want drainage holes an possibly saucers. Some planters are not suitable for outdoor use...Be sure to check on this. If your area gets freezes, some planters can crack. Ask before spending on one that may not make it through the first winter. Also see article: How to pot your plant!
C. Plant container as well as traffic control in busy areas. You will want a more substantial unit with some weight. We don't want something easy to knock over or carry away. Consider the larger, wide based planters. Some of the fiberglass units can be built with seating. We may need to add some ballast to help.
D. Mainly as a design aspect: First, if you are not a designer, get one to help in this area. High end - custom planters can be expensive, we want it right the first time. Browse our site, get some ideas, pictures and think about all the spaces, uses, traffic and other design aspects that the planters will need to complement. Start this process at least a couple of months before you need the planters if possible. If custom made is required, submit detailed line drawings and full descriptions for a quote.
E. Non planter use: As a trash receptacle, Table base, Holy water bowl, wine cooler or???? Let us know and we will advise what needs to be done and get you a quote.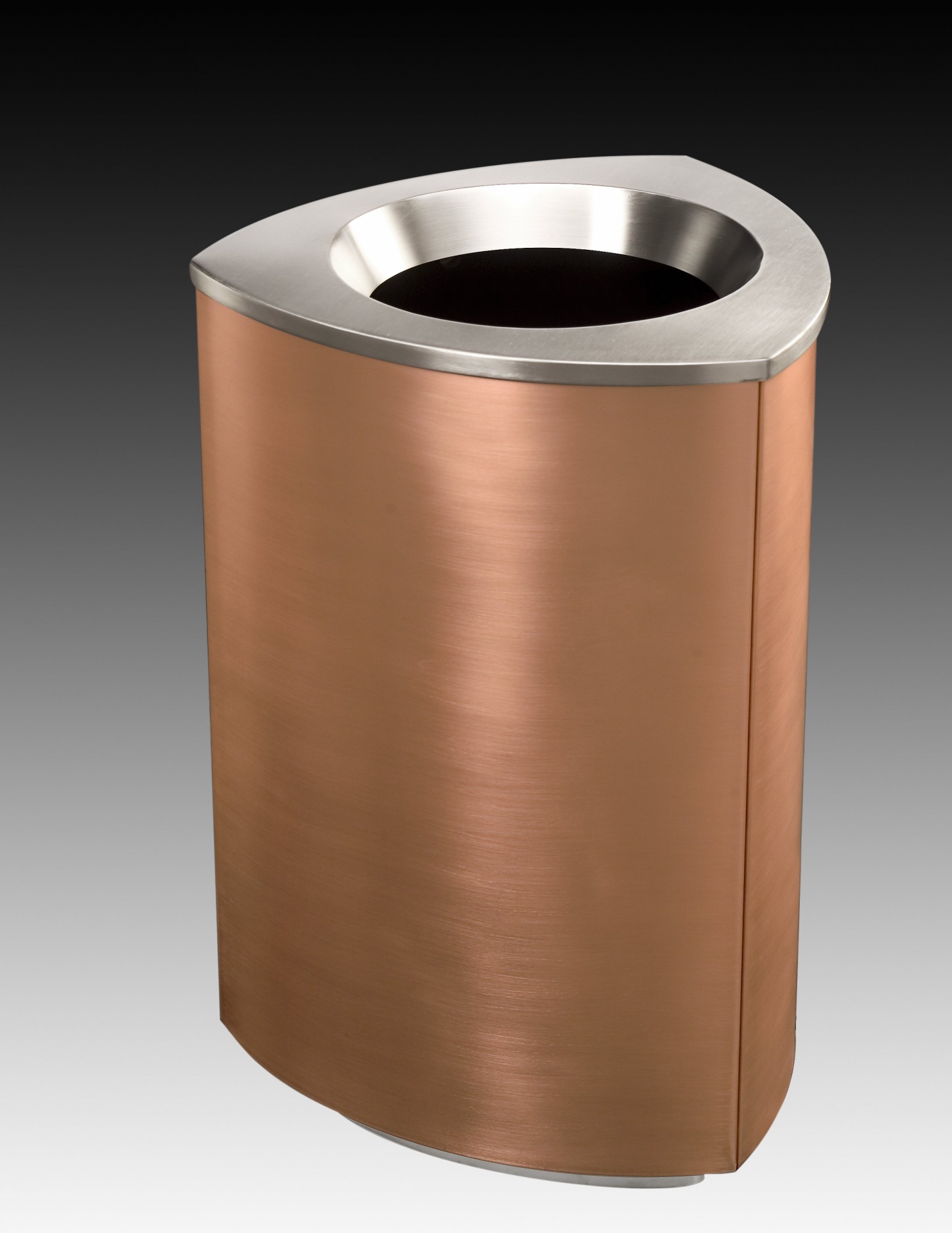 2. Size: The planters will be sized as: OD (outside diameter) ID (inside Diameter) HT (top -bottom outside) Depth (top - bottom inside) If not sure be certain to ask before you order a custom or designer planter as there is usually no returns.. Squares and rectangular will be: L x W x H plus may show inside and outside LxWxH
3. Cost: Any budget can afford nice planters. For example a 12" planter that would accommodate a plant in a 10" grow pot can start at about $12.00 and go up to $300.00 and beyond. Your budget and design needs will determine the total cost.
The level of cost goes up from: Plastic - Clay - Ceramics - Porcelain - Fiberglass - Metals - Stone & Combos - Custom.......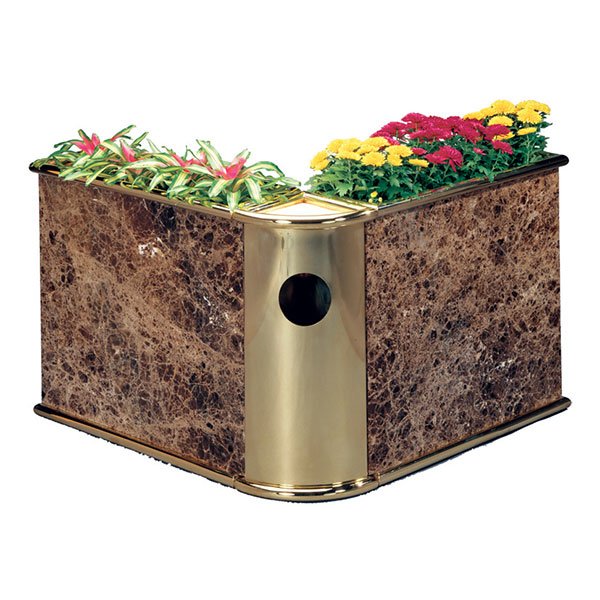 4: Time: This is the area we have the most trouble with. Yes, sometimes can fill that order in a few days. But when your talking about the higher end planters, they are made to order. A fast turn around is about three weeks. The metal planters can be six to eight weeks depending on a bunch of factors that I'll go into another time. Average time is two - four weeks. We can't guarantee even that so give as much lead time as possible. The Florida Hurricanes made the 3 week wait a six week wait...stuff happens.
5. Accessories: Your planters can be matched with Ash & Trash containers, Mail drop boxes, traffic control stanchions, luggage carts, and other items.
A. Saucers: Not usually needed but are available for many types of planters.
B. Casters: Many can have caster platforms or casters built in for easy moves.
C. Liners: Depending on the planter material and how you use, you may want a sprayed in fiberglass liner or other suitable liner.
D. Handles & legs: Available on many metal planters, common on the solid brass units.
E. Floor protectors: Some planters can scratch surfaces or over time sweat or leak. Better safe then sorry.
6. Delivery and installation: If your just getting a few small pots, UPS, FedEx, don't worry, but if your order needs to come on ground carrier on skids, you need to plan a bit.
Large planters can be Heavy! Some delivery truck drivers will help, others not. It's best to have help available and ready. Really large planters or larger orders on pallets may require a fork lift. Again, some drivers have a pallet jack to help get them to your door, but then what? Plan on a coordinated delivery / installation with your crew for best results unless you have a warehouse they can just drop off at.
Some residential deliveries will be at an added charge for larger orders. Drivers don't like hunting for an address and will charge for re-delivery if your not there.
Inspect you planters ON ARRIVAL. Damage must be reported at that time or it's yours.
Most of the points above apply to all planter sales by pretty much any company. Some terms and conditions will vary a bit.
Will be posting some other ideas on this subject shortly. If you have a question send us an email.
Bob Little
Also see: Article: How to pot your plant